The word
Kanoko
which means "fawn" in Japanese refers to the red dappled pattern found on some koi, such as the rare kanoko kohaku .Interestingly a kanako kohaku(red/white) is classified under the kawarimono variety rather than under kohaku in all major shows.Good specimens are relatively hard to find as the dappling effect are usually untidy and not well defined
Kanoko in koi is used for scales with a hi-colored centres.
Kanoko can be found on Sanke, Showa, Kohaku and Asagi.
There are usually 2 types of Kanoko-pattern.
First Koi which have a kanoko-pattern since birth.These fish can be very attractive and carry such effects throughout their life spans.An extremely rare find of course
The other posibility to have a Kanoko-pattern on a Koi, is fading Hi. Hi is fading from the edges to the centre, so 1 or 2 years, before the complete disappearance of Hi, a Koi can be described as a Kanoko.
Koi from the first category can be very expensive, because good Kanoko as rare.
The problem, who knows for sure, if you see a Koi or fish, if Kanoko is fading Hi, or a good qualitiy rare "born-Kanoko"????????
This how it looks in a koi......eh a kanoko koi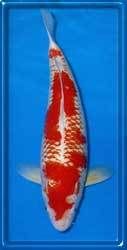 Now imagine the same kanoko effect to be found in a goldfish
Wouldn't it be a rare find ????????
That's why I call it my Dear Deer(fawn)
This is a "Kanoko Ryukin"
A video to complement this beauty
I can't be sure whether it is inborn or fading Hi but I do know I get to enjoy its beauty for now
regards
goldrush