Dear fellow competitors
I am suppose to write this a day or two before competition .I find that time would be just too short to get last minute adjustment and items of importance pertaining to the show.So I decide to publish this article for your perusal.Now all preparations of your fish would have been completed.Many months before,your fish should be identified and groomed for this honour. Only fish in their healthiest condition will stand a chance of winning a prize and if your goldfish is judged to be 'off-colour' by the judging team, all efforts would have gone down the drain by your negligence. So donít go shopping around at this time for a show winner.I donít think it can make it on time to show its best(Save your new arrivals for next round of competition )Your setup should provide your potential winner with the best possible conditions. Feed them on a high quality colour enhancing diet weeks before compe (but not too excessive!!!).
A week or two before the show, start adding continuous drips of fresh water over your setup to get that clean water feeling and get your fish accustom to fresh new water effect at competition ground. It maybe a bit impractical for green water practitioner here but getting your fish to experience a pseudo-competitive environment would undoubtedly be an added advantage.Change water diligently(I do 100% every 3 days!!!!) to get that cleaned and clear setup taste .Feeding has to be cut down to only one meal aday.
3-5 days before the show date, stop feeding your fish altogether. This will give them sufficient time to empty their digestive system, helping to maintain a good water quality while in transit and in the show tank.For female fish fasting up to 5 days is no consequence.They have better body conformation to withstand a loss of bulk through this short period of starvation.Males can lose their bulk in a matter of days so you have to feed up to 3 days before benching(Base on my personal opinion only)
Check that you have sufficient heavy-duty bags for your transportation.A couple of spares would be welcomed in case of ruptures or unexpected leaks.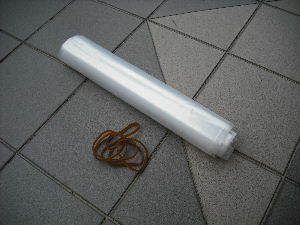 I find this bags exceptionally conducive ,durable and excellent for the job.Self standing upon filling,these square based plastics provide excellent comfort for large breeds like orandas and ryukins.I was told only Chinese shipments come with these exclusive bags!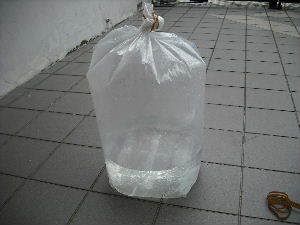 Some prefer styrofoam boxes to prop up ďspinelessĒ bags ,so donít forget to soure some. Oxygen cylinder for filling up the bags prior to the journey are optional paraphernalias. A cheaper alternative of providing O2. would be powdered " releaser like SERA " plus which is retailed at about $17++ .