Hey guys it is this time of the year again from October through early January where goldfishes are in abundance for sale especially those coming from the northern hemisphere.With the financial turmoil at its peril and China-linked product scandal transcend beyond its territory,we are in no better position for this year harvest
Let's hope our aquatic feed which are primarily manufactured from Mainland China are not laced with "protein riched "melamine
.............another reason why your fish dies from sudden death???
Anyway let me kick start with this season purchase
Not quite a competitive piece but I have downgrade myself to keep juveniles hahaha.Elsewhere I have preached that juveniles are often hard to predict and pretty unstable to keep.Here rather controversially I have obtained this piece to share its development in the coming months with you.
This piece is a calico (which is the most unpredictable breed),just under 2 inches with a nice smooth back and some promising headgrowth.Color is of course insipid for now but I would like to see its future development.
So let me unveil this piece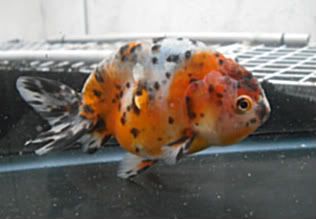 Let's see its swimming
Any comment?